Tired of pulling data from scada, LIMS, csv all into excel for analysis? It's what we've heard time and time again from operators whether they've partnered with Varuna or not. It's for that reason we're excited to introduce you to our latest product – Varuna SCADA+. You can now upload (real-time or historic) data, analyze/visualize and get operational insights from all these disparate data sets in one unifying dashboard. This tool is designed with your practical needs and daily challenges in mind, providing a comprehensive solution for managing and understanding your utility data.
The Power of Varuna SCADA+
Built on the back of your feedback and requests, Varuna SCADA+ allows operators to integrate their SCADA data with Varuna's reliable dashboards. The product offers a streamlined process for collecting data from on-premise SCADA systems, SCADA Historian, and other key asset management tools. It even allows operators to pull in data from their Laboratory Information Management Systems (LIMS).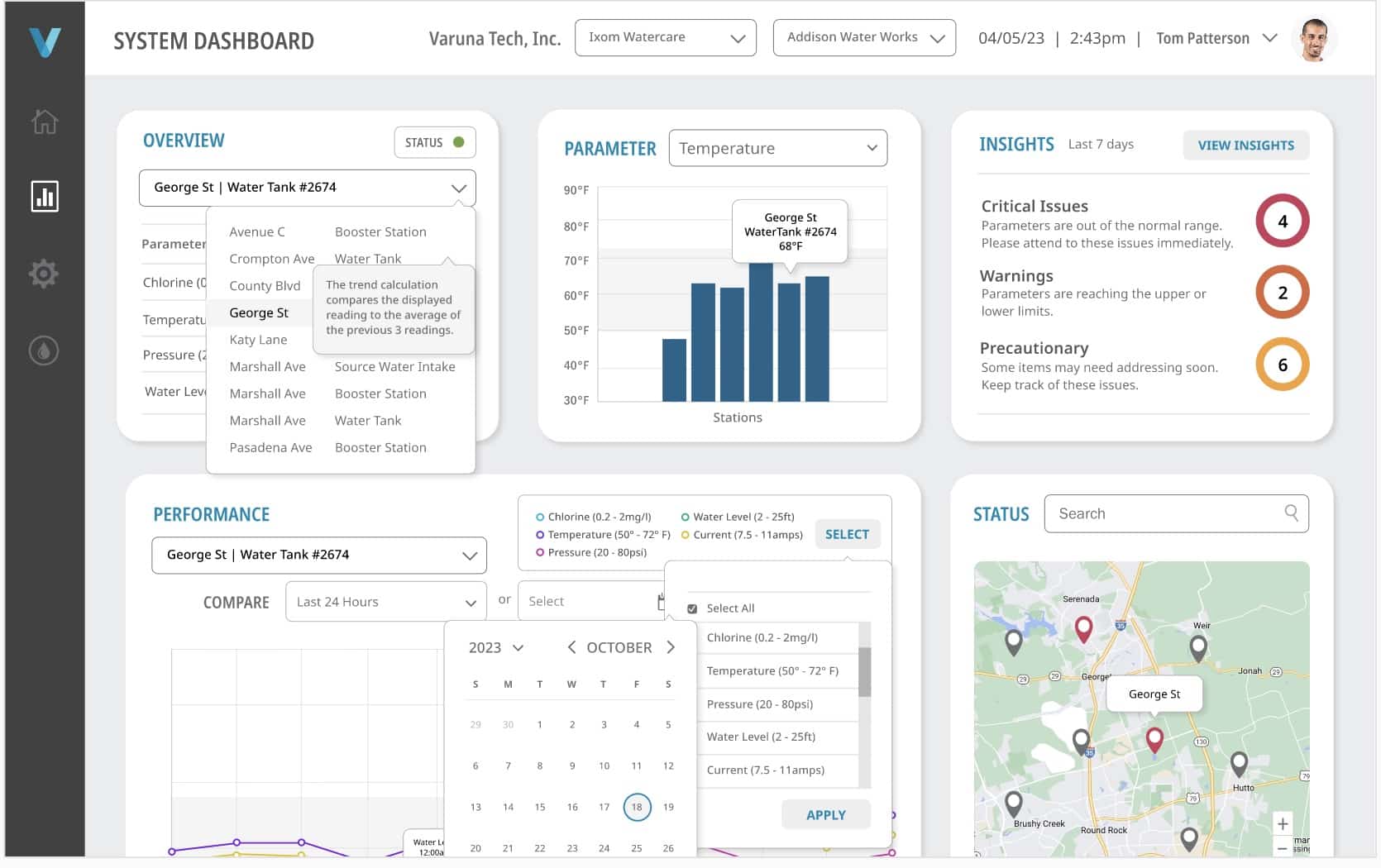 One Dashboard, Multiple Data Sources
Varuna SCADA+ takes our dashboards to the next level. It's now possible to bring together data from your utility distribution systems, SCADA, and LIMS into a single, user-friendly dashboard. This consolidation of information means you can track and analyze events across your systems, like identifying issues with booster pump 3 and water quality in pressure zone 2 during specific time frames. What's more, the dashboard can provide actionable recommendations if a high likelihood of recurrence is identified.
Focus Your Efforts Where They Matter
Varuna SCADA+ provides clarity in a sea of data, indicating what your technicians should prioritize and what your managers need to plan for. The result? A more efficient workforce and more effective strategic planning.
Knowledge Retention for Your Utility
With staff changes and turnover, valuable knowledge can sometimes walk out the door. Varuna SCADA+ serves as a knowledge repository, keeping vital insights within your utility and ensuring smooth transitions and uninterrupted operations.
Affordability and Support
At just $3/month/asset, you can integrate Varuna SCADA+ into your operations. This cost applies whether you opt to upload your own data or require expert support from our team of engineers. Please note, however, that Varuna SCADA+ may not be suitable for utilities that prefer on-premise SCADA data storage or those without an existing data collection mechanism.
Enhance Your Funding Opportunities
Assembling and organizing your data through Varuna SCADA+ could be instrumental in securing the funding you need to upgrade your water systems. There's never been a better time to take your utility operations up a notch. Embrace Varuna SCADA+ and start benefiting from efficient, data-driven decision making.
To learn more or get started, email us at seyi@varuna.city. Invest in Varuna SCADA+ today, and equip your utility with the tools needed for a successful, data-rich future.