As incidents of floods increase and as the intensity of droughts deepen, water systems will need to ramp up their ability to adapt to evolving system conditions in real-time. Water systems need to become adaptive. Water systems need to become resilient.
But the tools we've always used, the Emergency Response Plan being one of them, are inadequate to increase resilience. We are using static tools to address complex, dynamic changes in the underlying conditions required to deliver clean drinking water.
Doesn't compliance with AWIA 2018 make us resilient?
In October 2018, America's Water Infrastructure Act (AWIA) was signed into law. The US EPA states that AWIA "improves drinking water and water quality, deepens infrastructure investments, enhances public health and quality of life, increases jobs, and bolsters the economy. The AWIA provisions are the most far-reaching changes to the Safe Drinking Water Act since the 1996 Amendments, with over 30 mandated programs."
Water systems are probably most familiar with section 2013 of AWIA, which requires systems that serve populations of 3,300 or more to complete a risk and resilience assessment and develop an emergency response plan, and to update and recertify these every five years. But requiring a water system to self-certify doesn't provide a path to resilience.
Most water systems already have an ERP, and may have updated it when they self-certified for the 2020 or 2021 deadlines. But an EPR alone does not meet the requirements of AWIA 2018. And if you're struggling to meaningfully assess your risk areas and measure your resilience in the face of disruption or disaster, you're not alone.
Why an ERP isn't enough
For water systems, resilience can be signified by the ability to maintain continuity through shocks and stresses, while adapting and transforming toward sustainability. But water system operators know that lasting resilience can't be achieved by completing a form. Especially when that form only gets updated every 3 or 5 years. Resilience requires more than just being prepared. It requires a continuous state of information gathering, evaluation, and adaptation to new situations. Without true resilience, even a prepared water system can be rendered fragile in the face of a flood, outage, or cyber attack.
A water system with an ERP alone would be considered only "Prepared" in the spectrum of fragile to resilient.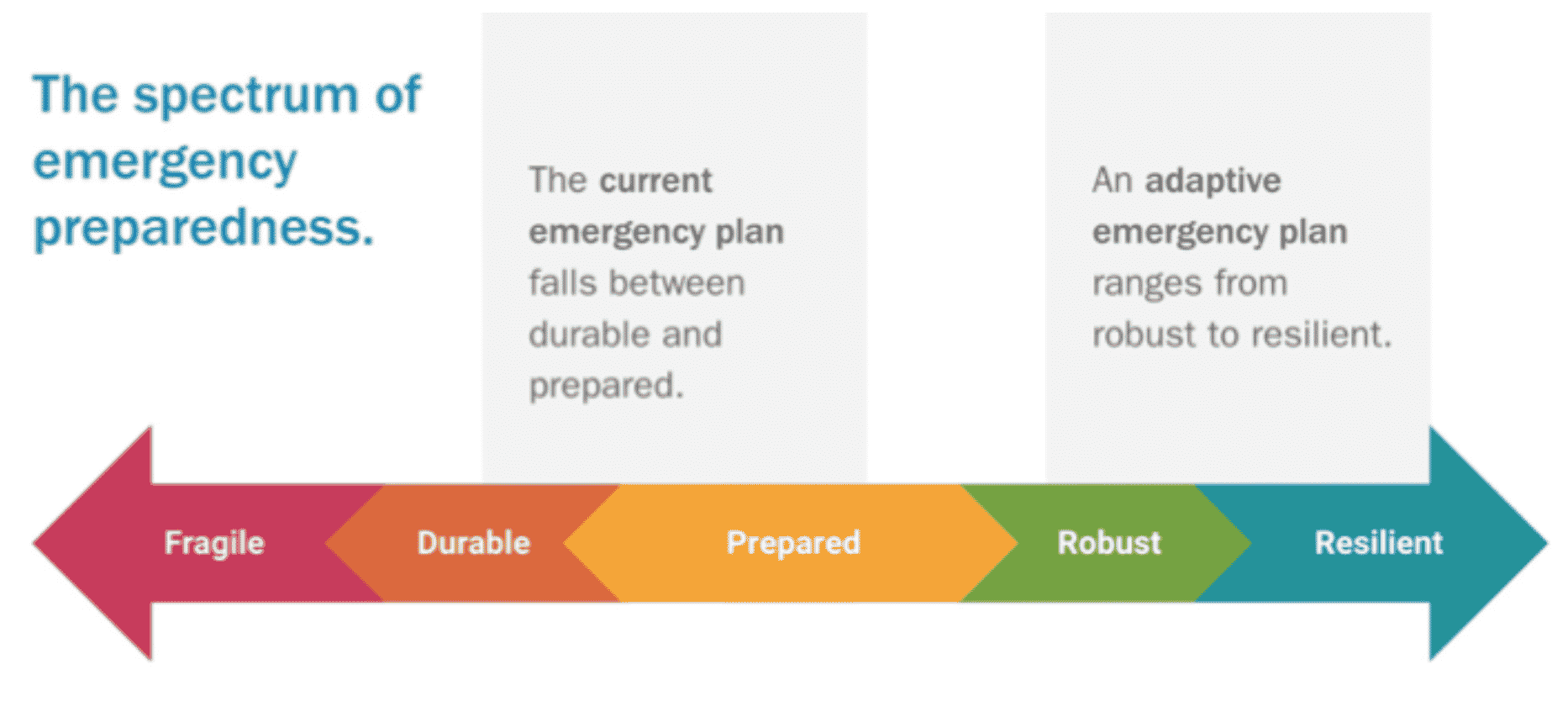 A key consideration here is that elements that impact a water system can be within or outside the operators' control. Where a water system lies in the spectrum of fragile to resilient is dependent on 3 broad factors:
INTERNAL CONDITIONS
Elements that operators of the water system manage and have control over. Good examples of this are the assets and resources the water system uses to manage the delivery of clean water.
EXTERNAL CONDITIONS
Elements outside the control of the operators that directly impact the work of maintaining the water system. For example, local income levels determine affordability, which informs water system revenue.
SYSTEMIC CONDITIONS
Macro systemic elements which are beyond the management or control of the operators, but have a big impact on the water system. Drought conditions are one example.
Having a clear view of the status and risk threat from each of these conditions is what enables proper management of your water system. It is what enables risk mitigation and high preparedness to address any emergency, and ensures that the system is tending towards the resilience end of the spectrum.
How can I create a meaningful Risk and Resilience Assessment?
The EPA recommends tracking risk along 10 vectors, split between malevolent acts and natural hazards. They offer a static PDF for small systems to complete, or an online assessment tool for larger systems. Neither is particularly user-friendly, and neither is dynamic enough to bring a system anywhere beyond basic emergency preparedness.
But the challenges facing water systems are more dynamic than that. Dynamic and adaptive tools are available to us. We just need to choose to become dynamic and change our approach.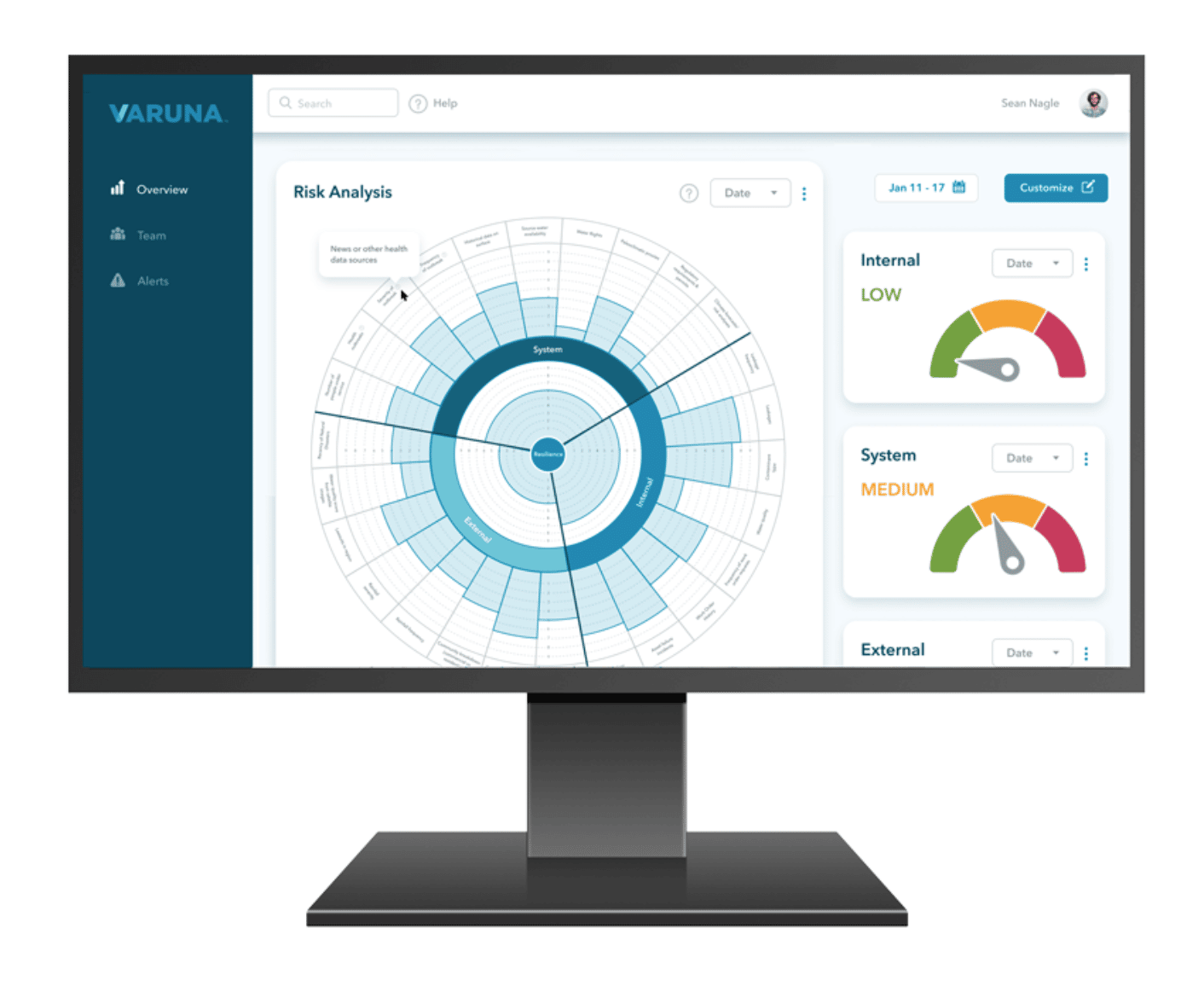 One of those dynamic and adaptive tools is the Varuna Resilience Dashboard. Our tool helps you illuminate high-priority risks, determine what's worth spending on to mitigate risk, and create dynamic resilience to keep your city safe in the face of emergencies.
Varuna's Resilience Dashboard tracks 26 critical vectors that a water system has to bear in mind at all times, in as near real-time as possible, to ensure a system can be run dynamically. Varuna automatically mines weather, health, and demographic data from publicly available sources, and incorporates the current state of your water system's assets, contaminants, leaks and more.
Varuna also knows that capital improvement planning needs to start long before a disaster occurs. So the Dashboard includes recommendations for risk-remediating projects with budget estimates, which automatically change as your personalized risk assessment is updated.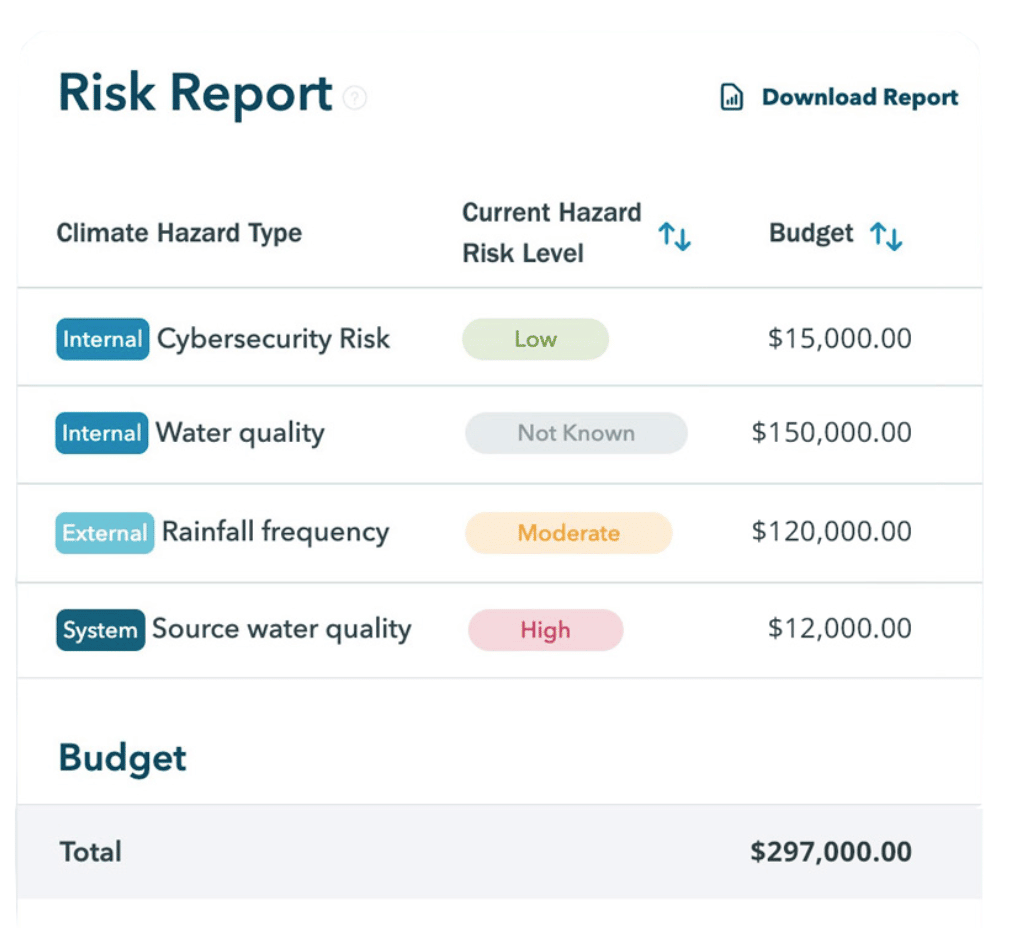 The Resilience Dashboard also creates reports around issues of environmental justice. And as an added bonus, the tool now includes a module for creating and storing your water system's Emergency Response Plan.
Interested in seeing more details? Learn more about the dashboard here and see if it's a good fit for your city.